After our great sleep at the Ocean Centre on the foreshore at Geralton, we met up with Peter Newman from the Australian Herbicide Resistance Initiative.
With Peter as our tour guide, we went on to visit Rod and Andrew Messina at their Wicherina farm. Peter gave us a overview of the wild radish and rye grass resistance due to the rotation limitations of the wheat/lupin practices from the 1980s to 2000.
Andrew Messina gave us a rundown of the farming history of his 12 000ha continuous cropping operation.
We had a look at his 8230 Case header with a home made Tells farm chaff cart with a conveyor belt feed system.
In typical farmer style, we checked out the machinery sheds where we saw their new ripper with a unique 500mm-800mm deep alternating shank design.
The next shed housed a solid 13 furrow and hydraulic 14 furrow mouldboard plow.
We went out to their paddock of Wyalchatchem wheat sown after deep ripping and moulboarding.
Where we are standing was not mouldboarded. The crop on the headlands that was not treated was poor but the plowed land in the middle was a cracker! The difference was chalk and cheese. They estimate the difference to be 1 to 1.5t/ha.
We went for a quick drive through their farm and looked at canola, wheat and lupins, which were very clean with only a small amount of radish to be seen in lupins. It was a very clean and well managed farm.
Off to the Mingenew bakery for a nice lunch.
After lunch we went on to Stu Smarts farm just down the road. He had impressive looking crops and an even more impressive bitumen driveway! Stu is the inventor of the stilletto seeding boot and has mouldboard ploughed 12 000ha.
Stu gave us an overview of how his farm is operated. He has a very large business cropping 13 000ha of canola, wheat and lupins, with a large amount left out in fallow for the next season.
His paddocks have been moulboarded before being put back into wheat with a modified seeder because the ground is so soft.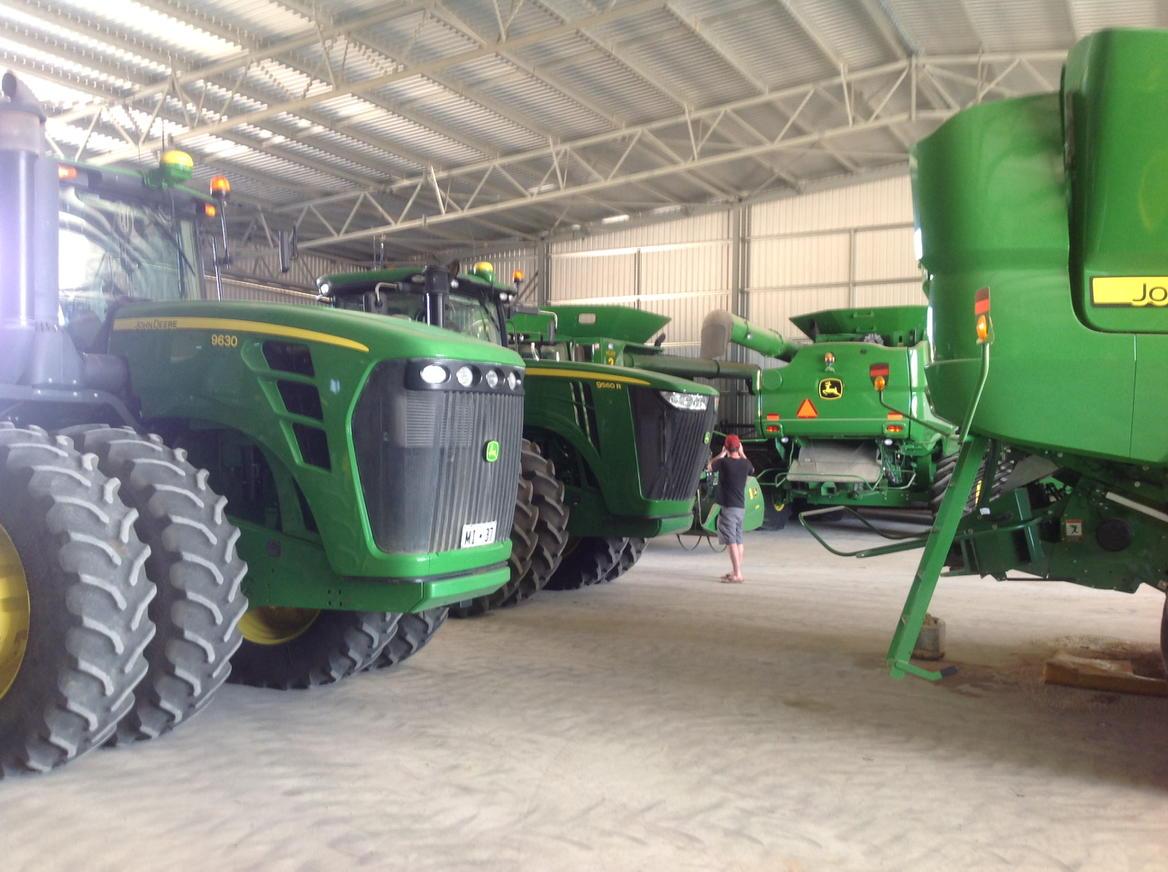 Stu led us around his 80m by 100m shed full of John Deere equipment. Another part of his business is he also owns 5 John Deere dealerships, Greenline, with branches in the south of WA. Stu has his very own John Deere team on farm just to service his gear.
Peter Newman then gave us a talk about his role in the rye grass resistance research and talk to us about what we may be able to do to prevent getting in the situation WA farmers had.  He said we are in the honeymoon stage of cropping in SA and if we don't start preventing resistance with integrated weed management tools we will lose chemical control options like WA have.  
Throughout our whole trip, WA farmers were telling us how GM canola had become a very important tool in the war on weeds and has been widely adopted. So with a ban in SA on GM it is very important to keep the chemicals we still have working or else we would be in trouble.
If we were to have GM it would make it easier to prevent resistance by using more modes of action in crop. Peter told us how implementing weed seed collection at harvest before we have a problem is the way to go. Another benefit he is seeing with stubble dumps is the use of them in mixed farming systems by grazing the chaff piles with livestock and getting good results for weed control with the added benefit of sheep feed.  Peter then had to leave us as he had some back packers out 'hand weeding' paddocks for wild radish!!! He had to go pick them up.
We jumped back on the bus and went for a drive around Stu's farm and saw the amazing difference in crop, moisture holding capacity and weed control from mouldboard plowing.
On to Lancelin and stayed the night at the Dunes. Another awesome meal there.
Thanks Sam Hancock for cleaning up the bus, we'd had a big day at the end of a big week. The calibre of people we have met has been awesome.